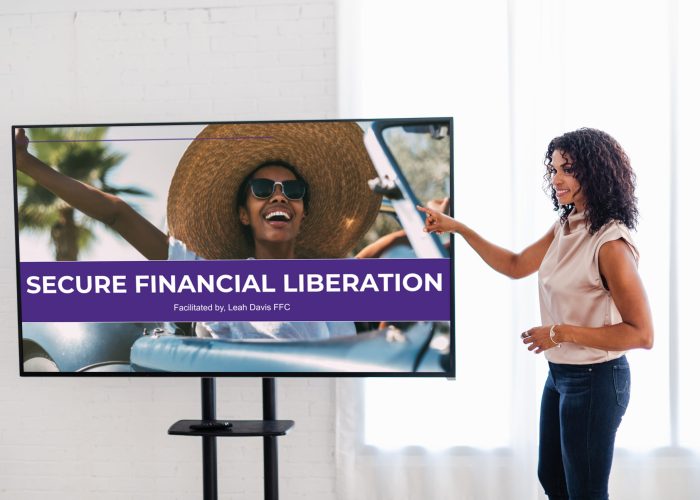 Workshops + Coaching
An excellent solution for financial education and individualized 1:1 coaching support for your organization. Workshops can be tailored for a specific audience.
Being In Financial Balance

Financial well-being involves an awareness for people to have balance between their thoughts, feelings, and behaviors as they gain clarity of their desired financial outcomes. It also includes having practical solutions in place for financial stability. When there is balance between these elements, individuals can have peace of mind and feel a sense of satisfaction as they become re-aligned with the vision of their future.

Economic Mobility Educational Series

Economic mobility curriculum teaches the necessary foundations for Black, Indigenous women of color (BIWOC) to achieve financial security. The foundations of financial security consists of positive cash flow, adequate savings, access to high quality credit, and insurance protection. Having a sufficient foundation creates a safety net for BIWOC to build and protect their assets such as their investment accounts, retirement savings and homes. Building and protecting these assets is a critical component to passing on generational wealth that many BIWOC deeply desire.
"Leah is great at supporting individuals who are curious about financial goals and planning to figure out those first or next steps to take. Her coaching is clarifying and helps people see the reasons behind their financial ambition and think through concrete steps to help them gain even deeper understanding and clarity. Highly recommend her services for those who want to address blocks they have around money, wealth, and earning potential and step up their financial planning game!"
Cynthia Pong
Embrace Change
"Leah Davis is a personable and relatable workshop facilitator. She is knowledgeable about personal finance and shares her real life experiences with captivating energy. I highly recommend Leah for your next workshop."
Jennifer Lujan
Project Manager, Native Women Lead
"Leah is a skilled facilitator. She engages the audience from the beginning to the end providing valuable and actionable information that is easy to understand. Her holistic approach to financial topics makes it easy for participants to set goals and create action steps that resonate with their values. Leah Davis is one of our most popular facilitators and is a compassionate and dedicated coach."
Saundra Davis,
Executive Director, Sage Financial Solutions
"There is power in creating spaces where we, as women of color, can discuss our Wealth and Wellness in an empowering space free of judgment. I appreciate and enjoy Leah Davis's Workshops as she shares tools for us to learn, grow, and provide knowledge that we can use to better ourselves and our family's wealth legacy."
Latifah Abdur
Board Member, The Good Rural